WASHINGTON, DC – On Tuesday, February 22nd, 2022, President of China Telecom (Americas) Corporation ("CTA") and Vice Chairman of China General Chamber of Commerce-USA ("CGCC"), Steven Tan, delivered closing remarks at CGCC's 2022 Lunar New Year of the Tiger Gala held in Manhattan, New York as well as virtually.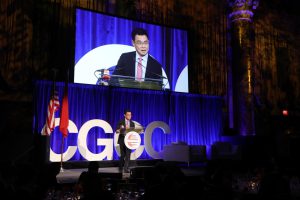 The theme of this year's gala was "Resilience and Appreciation." Hosted by CGCC and the CGCC Foundation, the gala gathered over 300 of the uppermost business leaders, government officials, and representatives from American and Chinese business communities to celebrate the Lunar New Year.
Speakers of the evening included: a) Chen XU, Chairman of CGCC and President & CEO of Bank of China U.S.A.; b) ​​Kathy Hochul, Governor of New York; c) Eric Adams, Mayor of New York City New York; d) Steven Fulop, Mayor of Jersey City, New Jersey; e) Evan G. Greenberg, Chairman and CEO of Chubb; and f) Gang QIN, Ambassador Extraordinary and Plenipotentiary of the People's Republic of China to the United States of America. Gang QIN emphasized that "The business community should continue to serve as a bridge and a bond between our two countries, to cultivate the objective and rational view of both sides and tell the story of cooperation."
The night followed with an award ceremony, a special presentation, and a fireside chat with David Schner, President and Executive Editor of LEADERS Magazine and Ray Dalio, Founder, Co-Chairman and Co-Chief Investment Officer of Bridgewater Associates.
Eric Adams, Mayor of New York City, New York, addressed the rising hate crimes against Asian American and Pacific Islander communities in New York City by saying, "Our potent secret weapon against COVID might be vaccines, but our weapon against hate is our diversity."
In closing, CTA's President Mr. Tan remarked "Cultural exchange, communication and collaboration are the vaccines that prevent the scourge of suspicion, hostility and conflicts. We are the antibodies, fighting for a trusting and compassionate world, at a time when calls for isolation seemed epidemic."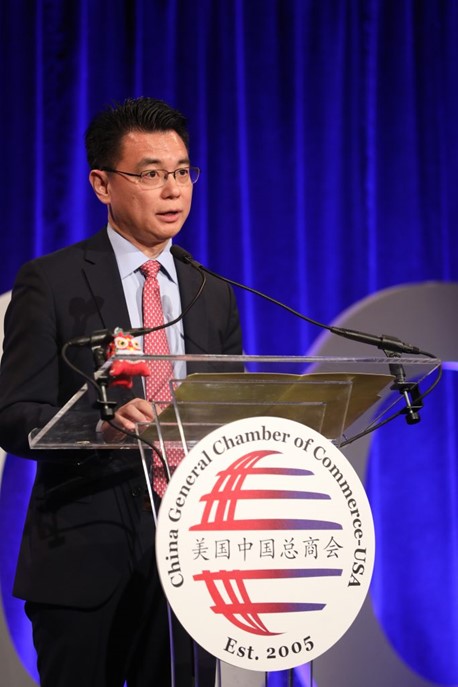 About China Telecom Americas
Headquartered in Herndon, Virginia, China Telecom Americas ("CTA") is a private carrier and leading one-stop integrator of communications and IT solutions for multinational enterprises and service providers in Asia and the Americas considering global expansion. Serving as a doorway to Asia, CTA provides sales and support personnel across the Americas who are equipped with the Asian market expertise that businesses need to successfully navigate local regulations, languages, and technical specifications to deploy IT solutions faster.
CTA has offices in Chicago, Dallas, Los Angeles, New York, Panama City, San Jose, Sao Paulo, and Toronto. Organizations throughout the Americas trust CTA's global expertise and localized solutions to stand out in today's complex business environment. Discover more at www.ctamericas.com.
Media Contact: [email protected]