WASHINGTON, D.C., April 26, 2022 – On April 26th, 2022, China Telecom (Americas) Corporation (CTA) Vice President, Luis Fiallo, delivered keynote speech "From Wire to Wireless: How Innovations in Broadband Help 5G Take it Further" at Light Reading Next-Gen Broadband APAC Digital Symposium 2022.
Key factors businesses should consider when planning their digital transformation and market expansion
Mr. Fiallo discussed key factors businesses should consider when planning their digital transformation and market expansion.
Examining the crux of what's enabling digital transformation, Mr. Fiallo remarked, "As the world grows increasingly reliant on wireless networks and devices to communicate and access information and even build the future of metaverse, we still depend on broadband technology to carry what is captured or created at the edge across different locations."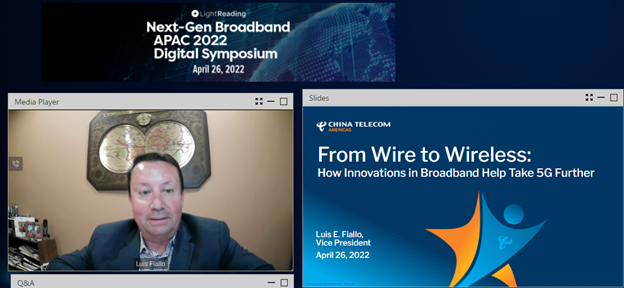 Highlighting the importance of next generation broadband to businesses, Mr. Fiallo said, "Business must be able to transfer edge information back to the enterprise. For information to traverse long distance and between locations, next generation broadband works in tandem with 5G technology—which is only a proximity-based solution—to allow high access rates to transfer edge information across the enterprise."
Regardless of what is added to the edge, reliable broadband is still needed to connect systems locally. In essence, how developed/advanced the wires are determines how far the wireless can take us.
Mr. Fiallo referred to China Telecom Americas' affiliates' latest G.654E terrestrial trunk optical cable between Shanghai and Guangzhou as well as the continuous investment in new technologies that support the communications ecosystem as examples of how China Telecom Americas and its affiliates are among the broadband leaders of the world.
Focusing on how communications service providers are leveraging FTTx and XGS-PON to compete in the rapidly expanding Asia-Pacific market, the symposium was held jointly by ConnecTechAsia, OMDIA and Light Reading Asia and was moderated by Alan Breznick, cable/video practice leader at Light Reading.
Source: China Telecom (Americas) Corporation
For more information, please contact: [email protected]