Cloud-Enabled Distance Learning Solutions
Overview
China's K-12 education system is the largest in the world with 230 million students and 12 million teachers with 490K foreign students in China, and 660K Chinese students studying abroad, according to government statistics in 2018. China's online education market is expected to reach $99.3 billion in 2023, according to Frost & Sullivan.
To support distance / remote learning program continuity and collaboration during Covid-19, CTA's customer service teams are working diligently to deliver the following authorized services quickly and in a cost-effective manner for our education industry customers across China and Asia/Pacific.
Challenges
Access to education and collaboration apps and ensuring high availability & performance in China
Network coverage and visibility to manage regional differences in internet availability and latency in China
Higher amounts of recorded video and audio file sharing for asynchronous classes
Higher emphasis on network stability during online-exams
Higher bandwidth demand at peak-times in congested metros
A rapidly growing market for education tablets
Need for edge caching and interconnectivity to Cloud Service Providers inside and outside of China
Anti-DDoS Services and Remote Learning Network Security Management
Need for single service provider to provide troubleshooting and customer support nationwide in English and Chinese.
Solution
CTA's Distance Learning Solutions allow students, lecturers and research associates in China to securely access academic institutions' central network and cloud  applications hosted outside of China via 3G, 4G, LAN or Wi-Fi connection from Windows, Android, Linux, Mac OS X devices from any gateway used in the university or education institutions' network with the following three scenarios and topologies below.
Scenario 1: Mobile SSL VPN to e-Learning Platforms
Scenario 2: Mobile SSL VPN to SaaS Platforms & Global Websites
Scenario 3: Site-to-Site VPN between Mainland Learning Centers & Global Campuses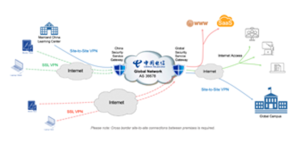 CTA's Remote Access VPN solutions allow students and faculty in China to visit global websites and access applications such as Google, O365, Blackboard, AWS, Azure, etc.

Features
Remote Access SSL VPN Connectivity to global e-learning / LMS providers and cloud platforms
Site-To-Site VPN to Campus or School Premises
Full Network Management & Monitoring Portal
Security Profile Management (URL Filtering, Application Control, Antivirus, etc.)
Advanced Threat Prevention Services (including Forensics, Anti-Bots, Anti-Ransomware and Two-Factor Authentication in base package)
Disclaimer
The information contained in China Telecom (Americas) Corporation ("CTA") website is provided for informational purposes only. TO THE FULLEST EXTENT PERMITTED BY APPLICABLE LAW, ALL WARRANTIES—INCLUDING, BUT NOT LIMITED TO, THE IMPLIED WARRANTIES OF MERCHANTABILITY, FITNESS FOR A PARTICULAR PURPOSE, AND NON-INFRINGEMENT —ARE EXPRESSLY DISCLAIMED. All content available through this website is provided on an "AS IS" and "AS AVAILABLE" basis. CTA makes no warranty or representation regarding the quality, accuracy, or availability of the website or any of its content. CTA does not endorse, and is not responsible for any third-party content that may be accessed through our website.