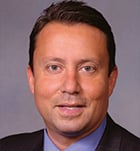 WASHINGTON, D.C., April 15, 2021 – China Telecom (Americas) Corporation (CTA) Vice President, Luis Fiallo, delivered a keynote speech at the 2021 Global China Connection (GCC) Summit, on "New Technologies Reshaping Our World: Connectivity (5G & IoT)".
The 2021 GCC Global Summit was hosted by Pennsylvania State University (PSU), which featured panel discussions on a broad range of topics, including business, investment, innovation, healthcare, technology.
Mr. Fiallo was invited to be the opening keynote speaker of the Technology Panel. The speech was followed by a fireside chat between Mr. Fiallo and two student leaders from PSU, Leonardo Girlando and Cecilia Gong.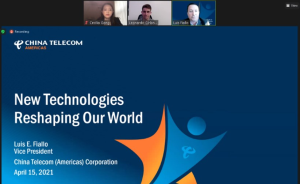 Convergence of 5G, Artificial Intelligence, Machine Learning, and Internet of Things technologies
The convergence of 5G, Artificial Intelligence, Machine Learning, and Internet of Things technologies was a key topic in Fiallo's remarks. As these technologies mature and amplify each other, a new wave of digital transformation has appeared on the horizon, poised to revolutionize the ways people work, live and connect even more significantly than the advent of the Internet and smart wireless devices.
Along with progress, come challenges. Fiallo pointed out that data is now seen as a valuable global commodity, but fragmented information governance at the global level may become inadequate to safeguard data. Fiallo proposed, developing standards for digital transformation and data protection calls for unified efforts from governments, NGOs, and corporations around the world. The concept of cybersecurity governance is relatively new, but companies such as CTA have invested decisively in developing corporate policies that govern data privacy.
Promising trends in the telecom industry
Drawing from a number of promising trends in the telecom industry, Fiallo concluded with a confident forecast for the future of the global digital economy and its benefits to society. "The telecom industry working with OTTs, technology/software companies, even governments, is still facing many challenges, but collectively it'll give us a lot of things to build for the future, for a new way of life", said Fiallo, "we are just seeing the beginning."
The GCC Global Summit is an annual gathering of well-known thought leaders that included former Australian Prime Minister Kevin Rudd, former US Ambassador to China Stapleton Roy, CEO of Forbes Inc. Steve Forbes, and President of US-China Business Council Craig Allen in previous years.
Source: China Telecom (Americas) Corporation
For more information, please contact: [email protected]
—
China Telecom Americas, a wholly-owned US-based subsidiary of China Telecom Corp. Ltd., is an international telecom provider for Data, IP and Voice Wholesale services to multinational companies, organizations and international carriers requiring China domestic services and International access to China & Asia Pacific.
With headquarters in Herndon, Virginia, and offices in Chicago, Los Angeles, Dallas, New York, San Jose, and subsidiaries in Toronto, Canada, and Sao Paolo, Brazil, China Telecom Americas continues to expand its strength and reach.
China Telecom Americas provides locally based, one-stop-shop, turnkey solutions for everything from China domestic and international data circuits to IDC services, network management, equipment management, system integration, and much more.
For additional information on China Telecom Americas, please visit www.ctamericas.com.
###